What happened in fake news this past week? Here are the top stories:
Does president Trump believe his own claims of "fake news" against the legitimate media? Washington Post columnist Margaret Sullivan doesn't think so, pointing to Trump's continued courting of the same media he likes to brand as "fake." As she says, "It's as simple as this: Trump doesn't believe that the news about him is fake. No matter how many times he says it. He merely objects to the fact that it doesn't reflect well on him." Read her column here.
It isn't just right wingers who claim the mainstream press is fabricating fake news. Democrat Howard Dean complained this week of "fake news" being used against Hillary Clinton in the 2016 campaign. When prompted to name some examples, Dean said "News, for example, of the Canadian nickel mine that was supposedly being pushed by the Russians when The Times inverted the time frame and never corrected it. There's a long list." He may have been referring to a 2015 New York Times article about Clinton's Uranium One deal, although there wasn't anything truly "fake" in that. Read Politico's coverage of Dean's claim here.
With all the blackface scandals coming out of Virginia this past week (really, was blackface that big a thing in Virginia back in the 70s and 80s?), it was perhaps inevitable that somebody would get around to claiming other politicians did the blackface thing in the past. Here's a particularly egregious example, a claim that Hillary Clinton dressed in blackface at a party in her youth, accompanied by husband Bill as a country bumpkin. As you can see in the supposedly corroborating photograph, that is not Ms. Clinton in blackface, and it is most certainly not Bill Clinton beside her. Really, the fakers need to try harder than this, although no doubt some die-hard Clinton haters will believe it. Read the story here.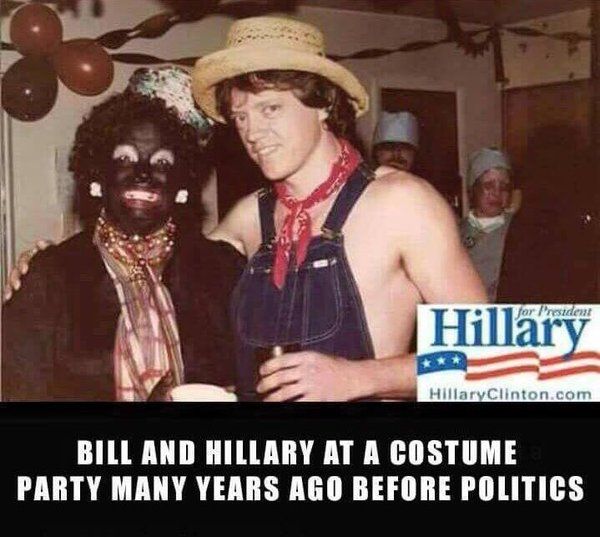 Not all fake news is political in nature. In fact, there's a large amount of fake medical news online, most of it promising miracle cures for everything from depression to cancer. Health Feedback, a network of concerned scientists, examined the most popular health articles of 2018, and found that of the top 10 shared articles, three quarters were either misleading or included some false information. Fast Company did the reporting; read it here.