Here are some of the top stories about fake news this week:
This actually isn't a fake story, but it does show how scary posts go viral on Facebook. The story is about the most-shared post so far this year, warning that a suspected child predator and human trafficker "may be in our area." The warning was specifically for the central Texas area, but the vague headline made it fertile click bait across the entire country. After all, aren't we all worried about child predators "in our area?" It's fascinating how this spread, and it's detailed in this story on Slate.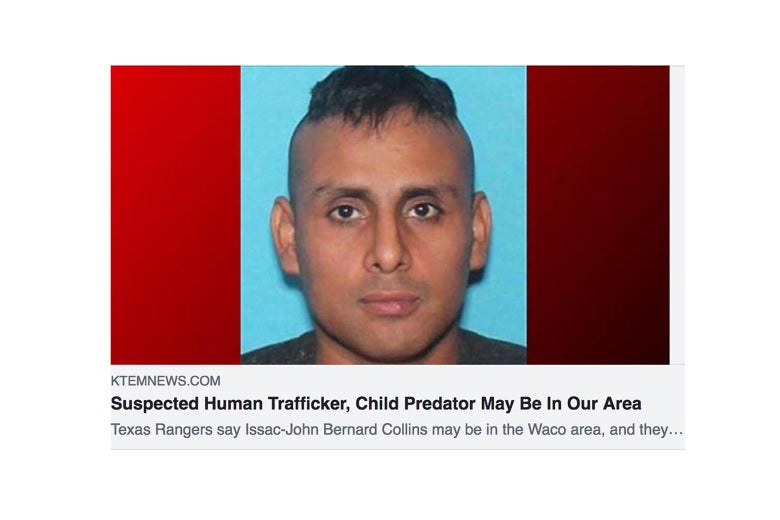 In spite of what you may have read, the German government is not seeking the removal of the Trump-appointed U.S. ambassador to that country. (It is true, however, that a lawmaker from Germany's opposition party has called for the ambassador's ouster – but not the government itself.) Read more at FactCheck.org.
You also may have seen this meme on Facebook, which argues that the blue areas of the country highlighted on the map have the same population as the red dot, signifying Los Angeles. The meme purports to support the Electoral College, but it has the math wrong. Los Angeles county has a population of 10.1 million people; the blue areas on the map collectively have a population of well over 100 million people. The numbers just don't add up, as reported by FactCheck.org.
Finally, here's another meme circulating on Facebook that you may have seen. It's purportedly a church sign from the "Crystal Methodist" (Crystal Meth — get it?) Church in "Effing" South Carolina, with the message "Adultery is a sin. You can't have your Kate and Edith too." Unfortunately, there is no Crystal Methodist Church and there is no Effing, South Carolina. It's all a joke, digitally manipulated, of course. Snopes calls the bluff on this one.