The blog took last week off so there's lots of catching up to do in the world of fake news news, starting with:
It was bound to happen. The Oxford English Dictionary just added an entry for the term "fake news." Other new entries include "slam-dunk," "promposal," and "circle jerk." Here's OED's tweet:
A notable entry in the October update to the OED is the term 'fake news'.

Although it was popularized in 2016 during the US presidential election campaign, did you know that 'fake news' can be dated back to 1890?
(1/3) pic.twitter.com/0SnPW23FMq

— The OED (@OED) October 9, 2019
No, Muslim Congresswoman Ilhan Omar did not propose a nationwide ban on bacon. Rest easy bacon lovers, it's all fake news, as reported by FactCheck.org.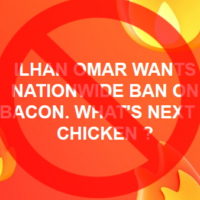 One long-standing subset of fake news is that of conspiracy theories. Well, Donald Trump's personal lawyer, Rudy Giuliani, put together a big packet of clippings containing various conspiracy theories regarding the 2016 election and gave it to Secretary of State Mike Pompeo to do with as he would. That packet of lies and disinformation made it to the State Department inspector general, who passed it on to Congress for further investigation. Just one more day in the Trump administration, fueled by wild speculations and untruths. The Huffington Post digs the dirt on this one.
Speaking of conspiracy theories, Attorney General William Barr is apparently scouring Europe for "proof" of a conspiracy theory that claims an Italian professor worked on behalf of the American "deep state" to undermine Donald Trump's 2016 presidential campaign. The Washington Post has the story, and it's a whopper.